Posts for tag: oral health
By Jocelyn P. Spaulding, DMD
January 14, 2019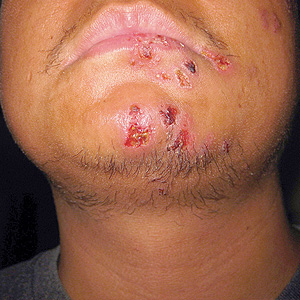 If you had chicken pox as a child, you're at higher risk for a painful viral infection later in life called shingles. Besides a painful skin rash and other symptoms that can develop, shingles could also affect your dental care.
About 90% of children contract chicken pox, a disease caused by the varicella zoster virus (VZV), which usually clears up on its own. But later in life, usually after age 50, about a quarter to a third of chicken pox patients will develop shingles.
The onset of shingles usually produces an itching or burning sensation on the skin that's either numb or overly sensitive to the touch. A red rash may ensue with crusty lesions, accompanied sometimes by pain, fever and fatigue. The rash often forms a belt-like or striped pattern along one side of the face or body.
For most patients this painful rash is the extent of their symptoms. But women who are pregnant, patients undergoing cancer treatment or people with compromised immune systems are at risk for more serious complications if they contract the disease. It's important for these at-risk patients to obtain a vaccination, as well as avoid contact with anyone with shingles.
Which brings us to your dental care: in its early stages shingles can be contagious, the virus passing to others through skin contact or by airborne respiratory secretions. That's why it's important if you're currently experiencing a shingles episode that you let us know before undergoing any kind of dental work.  Even a routine teeth cleaning with an ultrasonic device could disrupt the virus and increase the chances of it spreading to someone else. We may need to postpone dental work until the virus is under control.
Antiviral drugs like acyclovir or famciclovir are highly effective in bringing the disease under control, especially if treatment starts within three days of the onset of symptoms. And don't forget the shingles vaccination: the U.S. Center for Disease Control recommends it for anyone 60 or older regardless of a past history with chicken pox.
See your physician as soon as possible if you begin to notice symptoms. Don't let shingles interfere with your life — or your dental care.
If you would like more information on the impact of shingles and similar viruses on dental care, please contact us or schedule an appointment for a consultation.
By Jocelyn P. Spaulding, DMD
October 26, 2018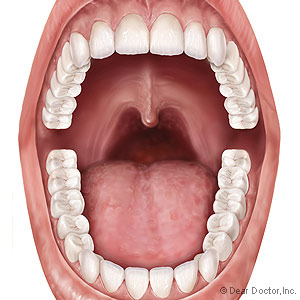 Each part of the human body is an intricate wonder. Take your teeth, for example: they're so woven into everyday life we don't notice them, yet they each work seamlessly with the jaws and mouth so we can eat, speak and even smile.
Here, then, are a few facts to help you understand — and appreciate — these tiny, amazing wonders we call teeth.
Layer Upon Layer. Rather than one solid mass, teeth are composed of different layers of slightly different tissues each with a unique role in protecting and enabling a tooth to function. Innermost is the pulp filled with connective tissue encasing blood vessels and nerves that transmit sensations to the brain. The next layer out is the dentin, a bone-like material sensitive to touch and other stimuli, which also absorbs some of the forces generated when biting or chewing. The outermost layer is enamel, the hardest material in the body and the tooth's first defense against infection and other dangers.
Front and Center. Teeth perform different functions depending on their type and location. Front teeth are our "onstage performers" — they help us to speak and enunciate words clearly and, of course, contribute to our smile. They're also adept at cutting through food when it first enters our mouths.
The Support Team. In keeping with our theater analogy, back teeth are our "backstage crew": they help support our facial height, provide balance for the jaws as we swallow and protect the front teeth from too much vertical force. They're also able to crush food before we finally swallow, which aids in the digestive process.
Intended for a Lifetime. If you consider all the environmental factors our teeth face — acidic foods, biting forces and temperature swings to name a few — you then can appreciate their resiliency. Of course, teeth have their enemies: decay, infection and trauma. With daily brushing and flossing and at least a couple of visits a year to our office for cleanings and checkups, you can help thwart many of those enemies. With both our efforts we can make sure your teeth really do last a lifetime.
If you would like more information on how your teeth function (and how to care for them), please contact us or schedule an appointment for a consultation.
By Jocelyn P. Spaulding, DMD
July 08, 2018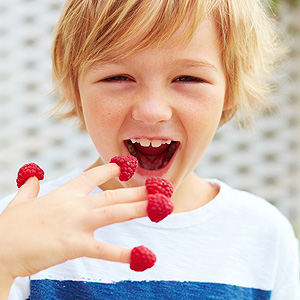 Want to give your kids the best start possible for a lifetime of good dental health? The most important thing you can do is train them in effective brushing and flossing. It's more than having a nice smile and fresh breath: these hygiene tasks remove the daily buildup of bacterial plaque, the primary cause for both tooth decay and periodontal (gum) disease, which are most responsible for poor oral health.
But those aren't the only habits they should be cultivating. Here are 3 tips for helping your child develop great dental health habits.
Encourage healthy eating. Teeth and gums are like other parts of the body: they need the "building blocks" found in nutritious foods to help grow strong, healthy tissues. By focusing on a diet leaner on processed items and richer in whole, less-processed vegetables, meats and dairy products, you'll be helping your child build strong defenses against dental disease.
Keep sugary snacks under control. Of all the items in your child's diet, sugar could have the greatest impact on their teeth. Disease-causing bacteria thrive on this particular carbohydrate, multiplying and producing mouth acid—the main enemy of tooth enamel—as a byproduct. So, limit sugary snacks as much as possible, opting instead for more nutritional between-meal treats. In fact, try to make sure they only consume sugary treats at mealtime, not in between.
Encourage an end to thumb-sucking or pacifiers by age 3. Most infants and very young children suck their thumbs or, alternatively, a pacifier. There's no harm in this habit unless it extends into later childhood where it could affect their bite. You can avoid this outcome by encouraging your child with mainly positive reinforcement to stop sucking their thumbs or other objects before their third birthday. Your dentist can also help with tips and support in those efforts.
If you would like more information on dental care for your child, please contact us or schedule an appointment for a consultation. You can also learn more about this topic by reading the Dear Doctor magazine article "Help your Child Develop the Best Habits for Oral Health."