Posts for tag: dentures
By Jocelyn P. Spaulding, DMD
January 14, 2019
How your dentist in Decatur, GA, can give you a new smile
Do you want your smile back? It's hard to think about smiling if you've lost teeth, as you may be embarrassed just talking to people and probably have trouble enjoying the foods that you love. If you want to regain your smile, the right denture can make all the difference. Dr. Jocelyn P. Spaulding at Spaulding Dentistry in Decatur, GA, offers a wide range of full and partial dentures to give you a new smile you can be proud of. Read on to learn more!
More about Dentures
When you are considering a denture, you want a denture that fits well and is comfortable to wear. You also want your denture to look as natural as possible so your smile reflects who you are. Modern dentures do all of the above. When you choose a denture from Spaulding Dentistry, you will look great and feel great, and that's what it's all about.
Spaulding Dentistry offers these great denture choices to help you regain your smile:
Immediate dentures, which are designed to be delivered immediately after your teeth are taken out; immediate dentures allow you to leave the office with your teeth in place. A conventional denture will be made for you after your tissue has healed completely, usually at 6 to 8 weeks.
Conventional dentures, which are created and delivered after your tissue has healed, usually at 6 to 8 weeks; conventional dentures are helpful because you only have to become accustomed to wearing one denture.
Overdentures, which are designed to fit over dental implants or tooth roots; overdentures have the advantage of enhanced stability and help to maintain the bone in your jaw.
Partial dentures, which replace only a few teeth and not an entire arch; these come in two types:

Transitional partials, which are designed to temporarily replace your teeth while you are waiting for dental implants
Conventional partials, which are a permanent solution to replacing a few teeth; these are built to last, and are for people who are not thinking about dental implants later on.
Your smile is important, and the right choice of denture is critical, so don't make the choice alone. Instead, call Dr. Jocelyn P. Spaulding of Spaulding Dentistry in Decatur, Georgia. She (404) 634-5738 can help you achieve a great-looking smile when you dial
By Jocelyn P. Spaulding, DMD
October 01, 2018
Dentures are a popular way to replace your missing teeth. However, understanding this restoration, your denture options, and how the process works can help you ensure that this is the best procedure for you and your smile. Find out more about dentures and the types of dentures available to you with Dr. Jocelyn Spaulding in Decatur, GA.
What can a denture accomplish?
Dentures can replace all or most of the teeth on an arch. Dentures come in several styles that your dentist uses in different situations. Dentures allow patients to eat, chew, and speak normally and can help you feel great about the way you look. Caring for your dentures involves removing them to brush them daily, just like your natural teeth. When not in use at night, soak your dentures in a denture solution or water. Your dentures' effectiveness relies heavily on their fit, so be sure to see your dentist regularly for checkups and, if necessary, routine maintenance.
Your Denture Options in Decatur, GA
Full Denture: Full dentures replace all the teeth on an arch. They fit over the gum tissue and stay in place either due to suction or gravity. Some people choose to use a denture adhesive to keep their full denture in place.
Partial Denture: Partial dentures incorporate any remaining natural teeth into the denture's design. The denture leaves a space where the natural tooth lies, then the tooth fits through the denture and acts as a sort of anchor to hold it in place.
Immediate Denture: A dental laboratory creates an immediate denture prior to an extraction of the remaining healthy teeth. This allows the patient to wear their denture immediately after their extraction procedure. The immediate denture also serves as a kind of band-aid as the extraction sites heal.
Implant-Supported Denture: Implant-supported dentures use dental implants to stay in place. Patients do not need to remove implant-supported dentures as they remain in the mouth at all times, even while sleeping. This type of denture uses four or more dental implants throughout the arch to keep the denture in place.
For more information on dentures or your denture options, please contact Dr. Jocelyn Spaulding in Decatur, GA. Call (404) 634-5738 to schedule your appointment with Dr. Spaulding today!
By Jocelyn P. Spaulding, DMD
April 16, 2018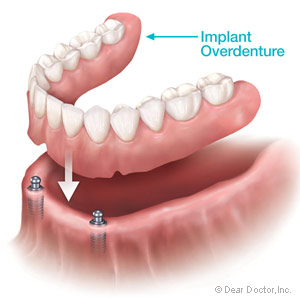 Some patients who wear dentures face a kind of Catch-22: their denture fit may have loosened and become uncomfortable over time due to continued bone loss, yet the same bone loss prevents them from obtaining dental implants, a superior tooth replacement system to dentures.
But there may be a solution to this dilemma that combines the stability of implants with a removable denture. A set of smaller diameter implants — "mini-implants" — can support a removable denture with less bone than required by a conventional implant.
Like all living tissue, bone has a life cycle: after a period of growth, the older bone dissolves and is absorbed by the body, a process known as resorption. The forces generated when we bite or chew are transmitted by the teeth to the jawbones, which stimulates new bone formation to replace the resorbed bone. When the teeth are lost, however, the stimulation is lost too; without it, resorption will eventually outpace bone growth and repair, causing the bone mass to shrink.
Removable dentures also can't supply the missing stimulation — bone loss continues as if the dentures weren't there; and due to the compressive forces of a denture, bone loss accelerates. As the jawbone structure used to originally form the denture's fit eventually shrinks, the denture becomes loose and difficult to wear. It's possible to adjust to the new jaw contours by relining the dentures with new material or creating a new set of dentures that match the current bone mass. Without adequate bone, fixed crowns or bridges anchored by conventional implants may also be out of the picture.
On the other hand, mini-implants with their smaller diameter need less bone than the traditional implant. A few strategically placed within the jaw are strong and stable enough to support a removable denture. One other advantage: these mini-implants can be installed in one visit with local anesthesia and usually without the need for incisions or stitches.
If you would like more information on dentures supported by mini-implants, please contact us or schedule an appointment for a consultation. You can also learn more about this topic by reading the Dear Doctor magazine article "The 'Great' Mini-Implant."